A Journey of a million miles begins with the first step.
Creating the right impression for the print is as important as the matter itself. Dedicating ourselves to the world of Printing & Bag Making, we make the honest endeavor to infuse life and soul into manufacturing and supplying of Offset printing machines, flexo roll to roll printing machines, Non Woven Bag Making Machines, Paper Bag Making Machines, Paper Cup Forming Machines, Paper Straw Making Machines.
Used for making D cut bags, W cut bags, Grocery paper bags, Shopping paper bags, Paper Straws, Paper Cups, Printing non woven bags, newspapers, calendars, posters, magazines & journals, etc.
SAHIL GRAPHICS – is a professional offset printing machine, non woven bag making machine, paper bag making machine manufacturer, suppliers, Importers & exporters in India. Specializing in single color, 2 color, and 4 color sheetfed offset printing machine, non woven bag to bag printing machines, Paper bag making machines, Paper cup forming machines, non woven multi-color printing machine and High Speed Non Woven Bag Making Machine.
This Progressive Indian based company is managed by Mr. Shafiq Ahmed & Mr. Rajesh Batra Professionals in the printing technology have to its credit, years of dedicated working for the offset printing industry and producing machines to meet International Quality Standards. Sahil Graphics is located in Faridabad, NCR Delhi Capital city of India, which is regarded as a Printing Machinery Industry Base of India. This location enjoys convenient transportation advantages. We are a young and dynamic organization with strong leadership and a dedicated team of professionals. With over two decades of work experience, we at SAHIL strongly believe in "COMPLETE CUSTOMER SATISFACTION" as our work mantra.
On this high rising demand of non woven fabric bag making and bag printing machinery in the market, we bring you the latest and cost-effective machinery, finely selected from CHINA. With the rapid development of non woven bag making and printing, the company introduces advanced foreign technology combining with the printing and non woven with collaboration with the Chinese company. This enables us to cater the Indian non woven bag making and non woven bag printing Industry with the latest equipments of the world. Our technical expertise enables our customers to make a right decision on purchasing the High Speed Non Woven Bag Making Machinery. We provide entire service right from the beginning (i.e.) enquiry of machine, follow-up, delivery of the machine, erection of the machine, taking production from the machine. We have strong technical team, which is trained in India and China updated with the latest technical know-how. This helps us to serve us 100% to our customers.
We are one of the renowned non woven bag to bag printing machine manufacturers, suppliers, Importers & Exporters. If you are finding quality offset printing press, non woven bag to bag printing machines, non woven fabric printing machines, High Speed Non Woven Bag Making Machines, mini offset printing machines, single colour sheet fed offset , two colour offset, four color offset printing machine, Paper bag making machines, Paper napkin machines etc.
In order to provide high quality offset printing machines to our customers, we strictly focus on materials choosing and quality controlling. In material choosing, we have built long term business relationship with raw materials & machinery suppliers & exporters for the sake of getting high quality materials. In production process, we employed a group of technicians to strictly test every piece of our machines. Thus, we can not only ensure the quality of our machines, but also provide competitive prices. Our company has passed through ISO 9001: 2008 quality management certifications. Therefore, our machines are exported to various countries like MAURITIUS, MALAYSIA, SYRIA, ALGERIA, PHILLIPINES, SAUDI ARABIA, UGANDA, KUWAIT, ABU DHABI, JEDDAH, ALGERIA, KENYA, LIBERIA, BHUTAN & NEPAL. We take pride to announce that we are always successful in winning the customer's faith.
We are the active members of IPAMA (Indian Printing, Packaging and Allied Machinery Manufacturers ' Association). And FAAPI (Faridabad Association of Printing & Packaging Industries)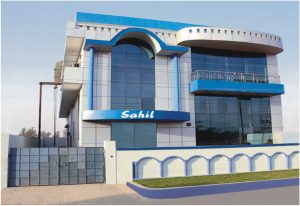 The 'SAHIL' series has today the complete range of Offset Printing Machine which includes Single Colour, Two Colour, Three Colour& Four Colour Non Woven Bag Printing machines catering to the requirements of big printers as well as small printers.
Its products render unparallel performance to the utmost satisfaction of the client. We always believe in bringing new & latest technology for our customers. This has helped it maintain its leadership position in the industry.
We recently opened a world class showroom of imported non-woven bag printing offset machines first time in India to display the printing demo of our latest range of non-woven bag printing offset machines. We always keep ready stock of these non-woven D-cut bag printing
machines and its spares. Our world-class customer service support team is always at the back and call of our customers and provides high quality service to our customers in an endeavor to minimize their machine down time.
The quality of the products and the strict and intensive internal quality control of the manufacturing process have made it possible for the company to develop and introduce new model of "SAHIL" after every year. Owing to the priority to serve perfect quality printing press, various stringent quality tests are conducted under the supervision of our quality controllers.
SAHIL GRAPHICS aspires to become a humble "Global Trading House" inthe Non Woven Bag Printing Offset Machinery and for few other products. SAHIL GRAPHICS has also been engaged in trading of various types of non-woven bag making machines, Paper bag making machines, Napkin Making Machines, Bag Printing Machines through sourcing or buying from both domestic and international market like China & Taiwan.
Through trading, the company is able to get different kind of advanced machines related to printing and packaging industry. Leveraging its experience in the field of technology, sourcing and marketing of Non woven bag making and printing machines has thus been able to provide its consumers, a wider variety and range of quality products.