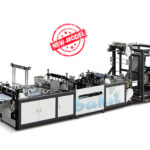 Non Woven Tri-Dimensional Box Bag Making Machine
Non Woven Tri-dimensional Box Bag Making Machines a fully automatic machine, widely used in packaging industry. It is loaded with some of the advanced features such as computer fixed length, photo eye tracking, auto stop, step motor feeding material, automatic side correction, folding device, ultrasonic roll off and dependable microcomputer control.
The machine requires less labor for operation and thus reduces the overall cost on production. Manufactured using robust material, the machine is in compliance with industry standards. It is well equipped with all the advanced measures that make the operation safe and secure.
Connect Now!