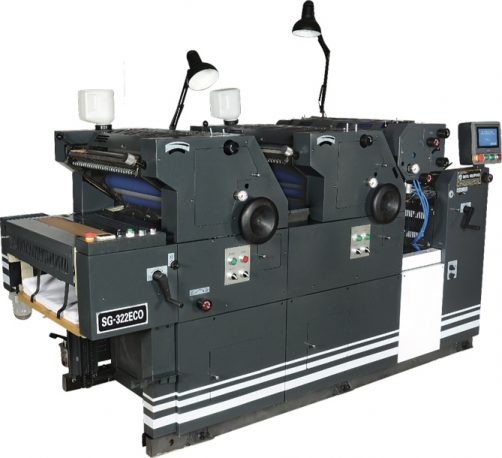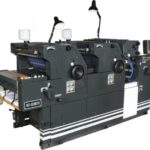 Multi Colour Non Woven Bag Printing Machine
Non woven bag printing machine is used for ready made Non woven bag. Ucut bags, Dcut bag, semi box bag can be printed on non woven bag printing machine. This carry bag printing machine can also print non woven sheets which can after manually stitched in non woven bags. Non woven Bag to Bag printing machine (Satellite Model) is compact & has an efficient design. Sahil Two colour non woven fabric offset printing machines have been specially made for quick printing to meet the requirement for quality short/long run jobs on non woven d cut bags & fabrics. The non woven fabric used to produce bags is 100% flexible, highly durable, waterproof, and stain resistant. It is also breathable. The non woven fabric can be easily manufactured in a variety of attractive hues ranging from mild to dark colors.
Key Features :

2-in-1 model machine suitable to print multi colour (4 colour looks) in single pass.
Touch Screen with Pneumatic impression system with Air Compressor.
Print halftone jobs, picture images and background with decent print quality on Non-Woven Bags.
Chrome-plated cylinders, stainless steel water fountain roller, making the machines long use life.
Hard Et Ground Gears.
Bearing type pull side lay for Micro Registration Settings.
Three Cylinder design with Chain delivery.
Front plate loading system.
Exhaust Fan for quick Drying.
Pre-set digital copy counter.
Powder spray unit.
Centralized Oil Lubrication System with pump.
Anti-Static Charger to remove Magnet from printing stock.
Double-Sheet Detector with Photo electrical Sensor.
Skip Feed function is realizable to ensure the ink density.
Power supply cut-off while opening delivery guard.
Jogger System to Collect the Bags/Papers on Delivery.
Print Non-woven D-Cut Bags with Vacuum only.

Connect Now!
Machine Specifications
| S no | Name of equipment | | | |
| --- | --- | --- | --- | --- |
| 1 | Paper/Bag Size (mm) | SG-322 ECO(406x560), SG-324 ECO(457x620) | | |
| 2 | Max. PrIntIngArea (mm) | SG-322 ECO(375x550), SG-324 ECO(457x620) | | |
| 3 | Min. Paper/Bag Size (mm) | SG-322 ECO(125 x 180), SG-324 ECO(180 x260) | | |
| 4 | Plate Size (0.20-0.28mm) | SG-322 ECO(420x560), SG-324 ECO(480x620) | | |
| 5 | Blanket Size (mm) | SG-322 ECO(460x560), SG-324 ECO(505x620) | | |
| 6 | Paper Thickness | SG-322 ECO(30-250g/m2), SG-324 ECO(30-250g/m2) | | |
| 7 | Bag Thickness | SG-322 ECO(60-150g/m2), SG-324 ECO(60-150g/m2) | | |
| 8 | Ink Roller System (3 form) | SG-322 ECO(14+10 Rollers), SG-324 ECO(14+10 Rollers) | | |
| 9 | Water Roller System(1 form) | SG-322 ECO(4+3 Rollers), SG-324 ECO(4+3 Rollers) | | |
| 10 | Printing Speed (for Paper) | SG-322 ECO(2000-8000iph), SG-324 ECO(2000-7000iph) | | |
| 11 | Printing Speed (for Bag) | SG-322 ECO(2000-3000iph), SG-324 ECO(2000-3000iph) | | |
| 12 | Power Required (single phase) | SG-322 ECO(2.5 kw), SG-324 ECO(3.0 kw) | | |
| 13 | Machine Dimension(LxWxH) | SG-322 ECO(3200x1100x1350), SG-324 ECO(3500x1200x1500) | | |
| 14 | Gross Weight Approx | SG-322 ECO(1700 Kg), SG-324 ECO(1900 Kg) | | |