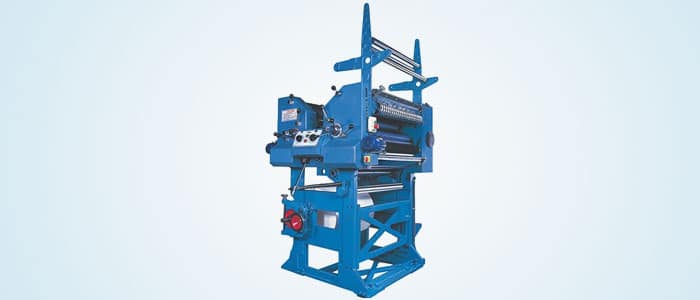 Mono Unit Web Offset Printing Machines
Mono unit is Blanket to Blanket Web Offset Printing Machines capable of Printing Single Colour on both sides of the paper web in single pass. It has an integral reel stand, saving space and ensuring minimum web lead. It is also available in separate stacked unit. The stack can be mounted on three colour satellite, mono unit or itself to make it 2-Hi, 3-Hi or 4-Hi machines for multi colour printing on both sides.
Advantages:
Blanket and Plate cylinders are hard chrome plated, balanced and mounted on dust proof "TIMKEN" taper roller bearings for best printing performance.
Centralized lubrication, all drive gears in oil bath.
All gears are hardened grounded ensuring high quality printing and longer life.
Side frames are made of high grade stress relieved cast iron for vibration free performance at high speed.
In the plate cylinder, slit or spring type plate lock-up system.
Variable speed moterised dampening.
Safety Guards.
Optional Accessories :
Brushmist Dampening system.
Running circumferential register for loading side plate cylinder.
Pneumatic control system.
Plate bending fixture & Plate punch.
Connect Now!