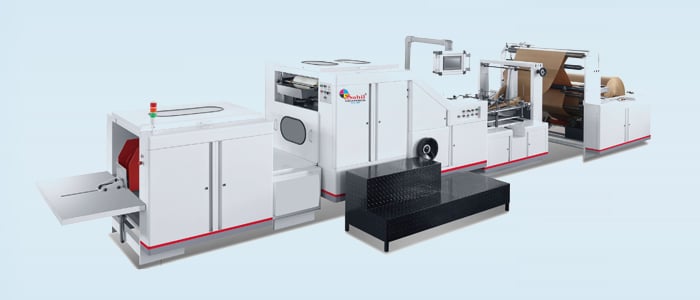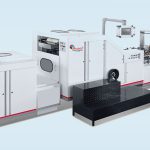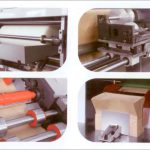 Fully Automatic Paper Bag Making Machine (PBM-460S)
SBR-460 Adjustable Roll square Bottom Paper Bag Making Machine. It Has The Advantages Of Fast Making. High Production Efficiency. Large Adjustment Range. Comprehensive Domestic inadequate Of Similar Products. Then to improve The New Equipment. This Equipment Make the Primary Color or Printed Roll paper To Glue on The Side. Folded Into A Tube. Glue on the Bottom. Bag Bottom Forming and Export Bags. The Machine Is Controlled By Computer Central Control System. Touch Screen Display. The Servo Motor Control The length Of Paper Bags. It Can Produce A Variety Of Sizes Paper Bags. The Fastest Can Reach To 220PCS/Min. It's greatly reducing the Labor Costs. This Machine Is The Best Choice For Producing Square Bottom Paper Bags.
Special Features :
Material feeding using hydraulic lift structure. Unwinding automatic tension control.
Side glue using the auto gluing system.
Correction using the pausource from Taiwan.
Paper tube forming devices included thumb-cut function.
Automatic shutdown. When it run out material.
All of center clip. Drum clamps and drum machine are using spider synchronous adjustment mechanical design. It can significantly reduce the adjustment time to replace the size.
When Germany SICK photoelectric. Accurately tracking the printed materials.
Equipped with automatic lubrication supply system. Stoppage alarm system.
Connect Now!
Machine Specifications
| S no | Name of equipment | |
| --- | --- | --- |
| 1 | Width of Paper | 600-1300mm |
| 2 | Cutting Length | 270-500mm |
| 3 | Width of Paper Bag | 230-450mm |
| 4 | Length of Paper Bag | 225-450mm |
| 5 | Width of Bag Bottom | 80-180mm |
| 6 | Paper Weight | 80-160mm |
| 7 | Max. Diameter of Paper Roll | 1500mm |
| 8 | Internal Diameter of Roll Core | 76mm |
| 9 | Max. Speed | 150 Pcs/min |
| 10 | Power | 15KW |
| 11 | Weight | 9000 KG |
| 12 | Overall Dimension | 9600mm X 2500mm X 1800mm |