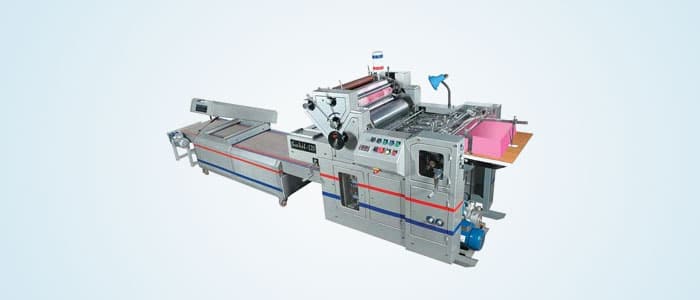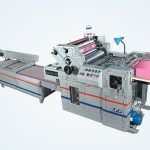 Poly Offset Printing Machines
The Print & Magic Cure Press
SIZES AVAILABLE - SIZE - 15"X20" FL (Front-loading)
Sahil Graphics has indigenously developed 3-in-1 poly offset printing machine with UV curing attachment. This machine can print on Polythene Bags, Non woven cloth, as well as on papers of different thickness. This is innovative and proved successful poly offset printing machine available with us. This machine is specially designed for letter press printers, screen printers, flexo printers specially to save the cost of time, production and manpower. It is also useful for full UV or spot U.V. Curing on paper or other PVC material. In this polythene printing machine you can print Multicolour look halftone images and background images in single pass only. In this machine there is no use to make nylo cylinders for printing. You can print with PS Plates which is quite economic & work for long run printing. For poly bag printing you have to use UV Inks & only baked plates are required for printing good quality jobs on poly bags.

Sahil Poly offset machine is compact & has an efficient design. Sahil Polythene Printing machines have been specially made for prinitng and drying Poly/PVC surface to meet the requirement for quality short/long run jobs on plastic bags. Utilizing technology developed by Sahil's own R & D department the machines have proved their worth not only in India but abroad as well.

The 'Plug 'N' Print' capabilities of the poly offset machine are complemented by a countrywide support network and Sahil's highly customer focused approach to marketing.

UV curing system which we use is a photochemical process, when ink applied on the poly surface and it pass through under UV (Ultra Violet) light, it get cure instantly with highest efficiency and consistent quality. The polythene surface will be dried promptly, smooth & beautiful. The use of UV technology offers many advantages for all print process. We provide on line curing system with all sizes of Sahil Offset Presses.

Through the years, advancement in offset press technology has enabled printers to achieve higher levels of quality and visual impact. According to the demands & latest trend of the market, this Polythene printing offset machine is designed by Sahil Graphics, Faridabad, India to print colorful small and medium jobs on plastic poly bags, Shopping bags, Cary bags as well as on papers and Non woven bags etc. So, as to ensure Sahil Poly printing offset machine is competitive in price & welcomed by the market.
Use of Poly bags
Polythene carry bags have become an essential part of our lives. Plastic polybags have a great influence on each one of us. We start our day by using Plastic carry bags and till end of the day we use them in countless ways. We may not realize consciously but today we use Plastic Shopping bags most of the times, when we buy eatable, cloth, gift item, toy, groceries and the list is endless. These poly bags are light in weight and possess lots of strength that makes them suitable for packing heavy items too. These plastic shopping bags also offer a bright look so that you can have a feeling of superiority while holding them in your hands.
With the increasing demand of Plastic packaging products, today it is established as a significant contributor in our economy. Considering its various utility, the range and variety in Plastic packaging products is very wide. These Plastic Packaging Products are manufactured with different types of plastics. The most common types of plastics used to manufacture different packaging products are:
| | |
| --- | --- |
| » High Density Polyethylene (HDPE)» Low Density Polyethylene(LDPE)» Polystyrene (PS)» Polyvinyl Chloride (PVC)» Polyethylene Terphthalate (PET)» Polypropylene (PP) | |
Polythene Bags
Plastic bags are supple packaging product made up of thin, compressed, flexible and blown poly film. Polythene bags, shopping bags, poly bags, carry bag are highly used for packaging, transporting and disposing purpose. All kind of food products, powdered products, liquid products, chemical products etc are stored, reserved and transported in polybag. Commonly used Poly bags are plastic shopping bags, recycled plastic bags, printed carry bags, industrial plastic bags etc. Polythene bags which are usually carved out of high density polyethylene (HDPE) are widely used in grocery stores, supermarket, local vendors etc. The thickness of HDPE polythene bags is very low as compared to other films.

Advantages of UV in offset include
» Low energy consumption for drying» No solvents» Wet-in-wet-print is possible with only one final drying» Immediate drying what makes further handling possible
» No powder is necessary for piling» Higher Gloss» Thin ink layers» Two-three times coverage
Description
" Good printability
" Good adhesive-resistant ability
" Good scratch-off-resistant ability
Suitable for printing onto :
" Paper
" Polythene bags, Carry bags, Shopping bags,
" Plastic Board (pp/pvc/pet/ps)
Advantages :
| | |
| --- | --- |
| » Three Cylinder Compact & efficient design | » Chain delivery with three gripper bars. |
| » Helical gears wheels | » Front plate loading system |
| » Single lever operation for inking, damping & impression | » Front lay and side lay for perfect registration |
| » Centralized oil lubrication with pump | » Shorter make-ready-time |
| » Automatic Roller cleaning device | » Print with poly master and plates |
| » Safety working from harmful UV rays | » Low maintenance cost |
| » Emergency stop switch | » Low noised cooling blowers |
| » Time & Labour Saving | » Energy saving, better than other conventional dryers |
Connect Now!
Machine Specifications
| S no | Name of equipment | | | |
| --- | --- | --- | --- | --- |
| 1 | Dimensions(L*W*H) | 3580*2160*28500 | | |
| 2 | Weight | 9000kgs | | |
| 3 | Gross Power | 80kw | | |
| 4 | Sheet Size Max. | 381x508mm(15"x20") | | |
| 5 | Sheet Size Min. | 127x178mm(5"x7") | | |
| 6 | Printing Area | 381x495mm(15"x19.5") | | |
| 7 | Gripper Margin | 9mm(0.354") | | |
| 8 | Gripper Bite | 4 to 6mm(0.157" to 0.236") | | |
| 9 | Plate Size | 455x508x.30mm(18"x20") | | |
| 10 | Blanket Size | 455x533x1.9mm(18"x21") | | |
| 11 | Stock Thickness | 30 gsm to 300 gsm | | |
| 12 | Max. Speed | 2000 to 7000 IPH | | |
| 13 | Delivery(Pile Height) | 355mm(14") | | |
| 14 | Total No. of Roller (Inking) | 14 Nos(Rubber -7 Nos. Copper -6 Nos. ) | | |
| 15 | No. of form Roller(Inking) | 2 Nos.(Steel -1 No.) | | |
| 16 | Total No. of Roller(Damping) | 4 Nos.(Rubber 2 Nos. Steel 2 Nos.) | | |
| 17 | Electrical Supply(Three phase D.C. 415 V, 50 Hz) | Supply with neutral 7 KW(9.5 HP) | | |
| 18 | Floor Space(Length x width x Height) | 4250x1168x1295mm(167"x46"x51") | | |
| 19 | Weight approx. | 1000Kgs.(2205Lbs.) | | |
| 20 | Feeder(Pile Height) | 406mm(16") | | |