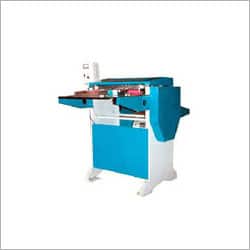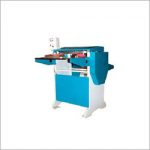 Half Cut Sticker Cutting Machine
SAHIL Three– in- One High speed Creasing machine, Half Sticker cutting machine & Perforation machine with ½ Hp DC Motor & Variable Drive Complete With Two Single &Two Double (Combined) Creasers for the thickness of Book spine, Four sets Half sticker cutter & Two set perforating Dies.
Examine our Strong Points:-
Multipurpose Half Cut Sticker Label Cutting Machine Small label printed on adhesive coated sheet needs cutting without cutting the attached paper, so a most suitable machine is needed to cut this printed sheet cutting the lower paper attached to the adhesive coated printed sheet.

Perforater Creaser
This half cut sticker label cutting machine is a multipurpose & can be easily converted to rotary disc slit perforator creaser for perforation as on bank cheque book & creasing, bending on wedding cards & book title creasing.
Standard Supply & Order
The size of machine is 24"
2 perforator, 2 creaser & 4 half cut cutters.
Eight holders is standard supply it may be all half cuts or creaser & perforators.
Minimum gap between two cutters is 3/4" & about 20 holders can be fitted on this machine as on optional requirement, which is most useful in half cutting. The machine can be tailored made to any size and any requirements as mentioned.
Connect Now!
Machine Specifications
| S no | Name of equipment | | | |
| --- | --- | --- | --- | --- |
| 1 | size | 24" | | |
| 2 | 2 perforator, 2 creaser & 4 half cut cutters. | | | |
| 3 | holders | 8 | | |