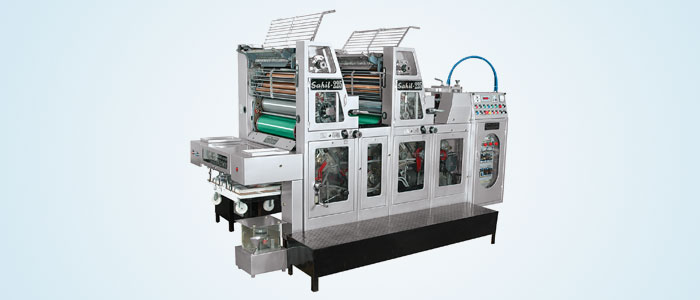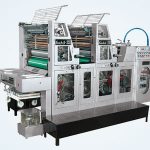 Two Color Offset Machines
We, SAHIL GRAPHICS, based at Ballabgarh, Faridabad, India an established Suppliers & Exporters of superior quality Automatic Double colour Sheet fed offset printing machines / Two colour Sheet fed offset Presses/ Multicolor offset printing machines from the heart of India.
A sturdy and simple design for easy maintenance. Its compact size simplifies changeover and make ready and makes the SAHIL Two Colour Offset is perfect for tackling short-to-medium run jobs.
SAHIL 225 / 228 bi-Colour sheet fed offset machines have an excellent reputation for its advanced features & un-complicated high quality production compare to imported, rebuilt or used printing machines.
The proven 20-Roller inking system ensures smooth, even ink flow to the form rollers for extraordinarily high quality reproduction. Sturdy construction, bearer contact, improved pull side lay & three large form rollers of varying diameters for superior ink distribution ensure high quality dot sharpness & top printing quality. All cylinders are cast in one piece and are of treated alloy cast iron and hard chrome plated. Stream Feeder gives smoothest control of each sheet as it approaches the feed board. Double sheet detector & no sheet detector are provided on feed board for safety.
The SAHIL 225 / 228 Double Colour Offset adds multicolor capability to the productivity and profit potential. Whether it is for print-for-profit or in-plant, a well-deserved reputation for high print quality will add to the job opportunities.
Your SAHIL 225 / 228 Hallmarks to Higher Profit
Low Investment - The SAHIL two color offset gives you good value at a very attractive investment cost. Easy servicing, reliability and long service life all contribute to optimal pay-off.
Ease of Operation - The SAHIL double colour offset is a user-friendly Reliable press, sturdy and easy to operate. it offers uncomplicated and fast plate changing with ergonomic & well tested design.
Top Printing Quality - Sturdy construction, small cylinders, bearer contact and large form rollers ensure perfect dot sharpness.
High Productivity - The SAHIL Solna type double color offset offer short make-ready times with a quick change of plates and possibilities of handling a great number of small and medium runs in minimum time.
Advantages :
| | |
| --- | --- |
| » Hardened ground gears | » High-grade cast Iron side frames |
| » Rotary Cam Stream Feeder | » Precision ground & hard chrome plated balanced cylinders |
| » Motorized Feeder table | » Automatic centralized lubrication with cyclic timer |
| » Bearer-to-Bearer contact | » No sheet & double sheet detector to prevent wastage |
| » Auto impression On / Off | » High quality multi-color printing with perfect registration |
| » Improved Pull side lay | » Automatic Ink roller wash-up device |
| » Warning bell system | » Motorized Dampening System |
| » Multicolor relay with autoprint settings | » Roller safety guard both sides |
| » Crawling speed for faster make ready | » Quick plate clamp for fast installation & removal of plates |
| » Fine & easy adjustment of grippers for various thickness of paper/board | » Compact main control panel, DC variable speed drive mechanism with Digital sheet counter & speedometer |
Connect Now!
Machine Specifications
| S no | Name of equipment | | | |
| --- | --- | --- | --- | --- |
| 1 | Size: | 15"X19.6, 17"X32" & 18"X24.5 | | |
| 2 | Material: | Steel | | |
| 3 | Voltage: | 220V/850V | | |