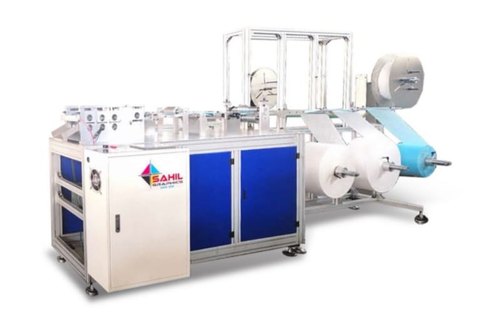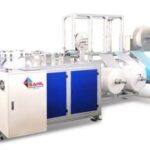 Automatic Face mask making machine
Automatic face mask making machines used to make 3 layer blank mask.
Instruction:
This equipment is suitable for the fully automated production of flat masks, mainly including coil material feeding system, folding synthesis, nasal beam wire loading, mask molding, mask cutting, ear belt feeding and welding, finished material and other processes, complete the entire production process from the raw materials of the coil to the finished product of the mask, the production of masks with a comfortable wearing and non oppressive. The overall structure is shown as follows:
Main structure:
Feeding and Folding Composition structure:

Brief description and features:

Manual loaning material, fully automatic feeding; automatic folding, multi-layer ultrasonic welding; Automatic cutting


Feeding sheet-mask structure

Brief description and features:

The feeding structure adopts mold feeding, no flip mechanism, it can ensure the stable and high- efficient delivery.


Outer ear band welding structure

Brief description and features:

Servo -step feeding material Automatic feeding with ear bands; Ultrasonic automatic welding system Automatic thermal pressing; Automatic collection
Technical parameters:
Wide-Format For Materials
Air Pressure Fluctuations
+_1%
Outer Layer
175mm
Powder
AC220V, 50HZ, single Phase
Filter Layer
175mm
Max Powder
10 KW
Inner Layer
185-195mm
Machine Size
5000x1100x1700mm
1200x1000x1000mm
Product Specification
175x95mm
Machine Weight
2.6 T
Productivity
40PCS/H
Compressed Air
0.4 MP~ 0.6 MPa
Pass Rate of equipment Products
99%
Except for raw materials and human operations
Main electrical equipment Device Branding
Cylinder: AIRTAC
Rail wire rod: HIWIN, Taiwan
Solenoid Valve: AIRTAC
PLC : Panasonic
Touch screen: Panel master
Inverter: HUAYUE
Photoelectric inspection: Panasonic (or Keyence)
Connect Now!