Avail A Fully Automatic Flexo Printing Machine From Sahil Graphics
February 17th, 2020 Sahil Graphics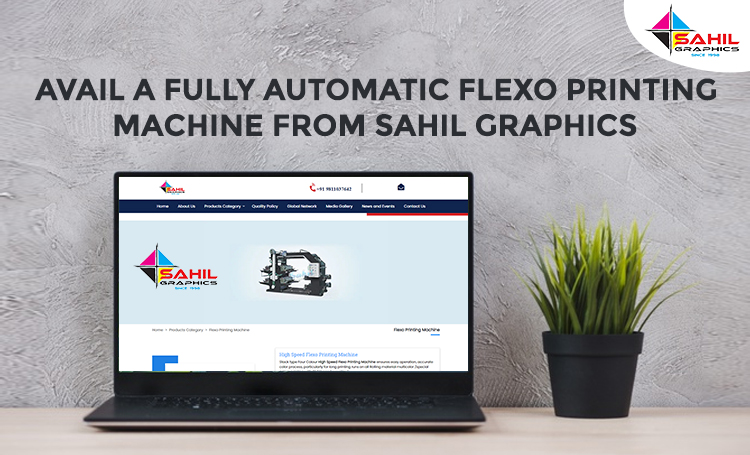 If you are into a business of printing, it is important to understand the technology and equipment used behind flexography. In this process of printing, images are printed involving a raised image that is impressed into a flexible relief surface that turns the picture out onto several materials.
The concept of this printing method is somewhat similar to the early letterpress style devices, which "stamped" images and font onto paper in the publication of newspapers and books. In this printing process, you need a modern Best Flexo Printing Machine.
In the market, you will find a number of manufacturers of printing machines. But the most important factor is that you avail it from a reputed manufacturer because you wish to avail of the best services from the machine. The technology of flexo printing provides several benefits over other types of reproduction, and you can understand the advantages of flexographic printing by analyzing the process.
In order to expand your printing business, you can easily purchase the best printing machine for Flexographic printing from Sahil Graphics. It is one of the top-rated manufacturers of printing machines in the market. The machine for flexo printing is capable of handling large-scale reproduction of images and text.
Apart from the flexo printing press, Sahil Graphics also offers machines for producing paper products. Advanced Paper Cup Machines are provided by it, which is capable of producing paper cups in large quantities and within a short time. The paper cups manufacturing machines can manufacture quality paper cups in different shapes and sizes.
These machines are fully automatic and produce paper cups, which are used for tea, coffee, ice-cream, etc. Paper cups are nowadays gaining popularity because they are the best substitute for plastic cups. They are now widely used because they are eco-friendly and biodegradable.