What You Need to Know about Square Bottom Paper Bag Making Machines
December 19th, 2022 Sahil Graphics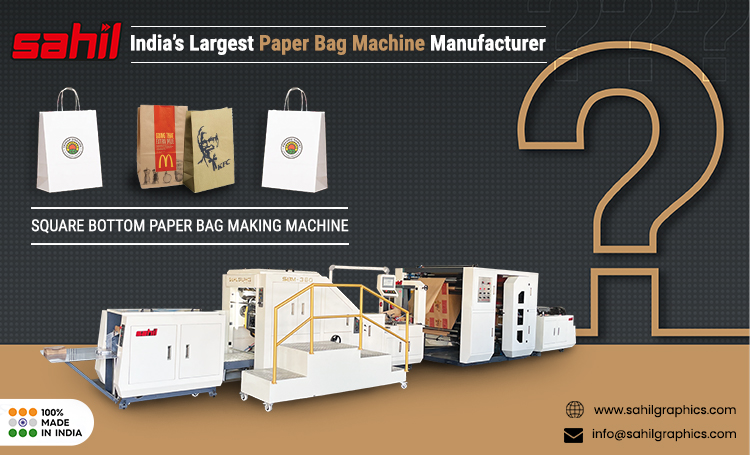 With the continuous increase in demand for paper bags, there is tremendous growth in demand for paper bag making machines as well. In the market, one can easily find various kinds of machines and manufacturers who are known to deliver high-quality and grade, paper bags.
Sahil Graphics is one such reputed and trusted manufacturer that are known to design various types of machines, including square bottom paper bag making machine , that deliver high efficiency and have high-end manufacturing capabilities. These machines, equipped with highly advanced features, are moderately priced, making them popular among prospective buyers.
The various added advantage and features of square-bottom paper bag-making machines have been summarized below:
Wide Range of Bag Size Available
The foremost concern for any manufacturer is the availability of the bag size range, as it gives the option to design and bring out bags of various sizes with a single investment. The square-bottom paper bag machine from Sahil Graphics gives you just that at the most optimal price.
The fully equipped and advanced machine delivers outstanding performance and can manufacture high quality in less time.
Not every person is technical and can understand the nuisance of features and operations that need to be carried out to handle the machine. Here, machines from Sahil Graphics stand apart from the rest as it easy operations that are simple to understand and work with.
Buying a square-bottom paper bag machine is a long-term investment, and buyers therefore look for a machine that can last a long time, has high durability with the finest performance.
Unlike, manual operations in which there are high chances of waste and error. This machine is automatic and runs on its own, completing all the operations in a single cycle and providing high-quality bags with the least wastage and error.
Besides, these advantages, numerous other benefits have made paper bags high in demand-
These include-
With the increase in awareness to save the environment, paper bags have become the need of the hour, from top companies to brands and even consumers, all prefer to go with paper bags which are sturdy, natural, and long-lasting.
Available in different shapes and colors
Everyone likes to flaunt bags of different sizes, shapes, and colors, and paper bags are just the right choice to do the same. These bags allow customization and thus are used for brand promotion as well.
When all the focus is on the environment, paper bags can be easily recycled and thus save Mother Nature.
If you are looking for a high-quality and durable square-bottom paper bag machine, you can easily go ahead and buy from Sahil Graphics which has been in the industry for many years now and has manufactured and delivered several machines across India and the world. The company is highly trusted and reliable and has a long list of various kinds of paper bag making machine, among which you can select any.