Mini Offset Printing Machines- Avail Them At Highly Affordable Prices From Sahil Graphics
April 17th, 2020 Sahil Graphics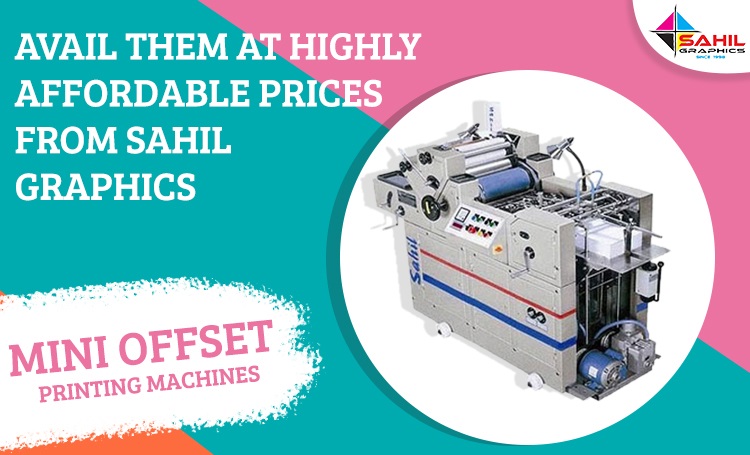 Offset Printing, a commonly used printing process, it is designed for mass production. Most of the business houses and organizations use offset printing to print high volumes with consistent quality and at low costs. For this printing process, the high-tech Offset Printing Machine is required.
If you are into the business of producing products with offset printing then an offset printing press is what you need the most. You can avail it easily as there are many manufacturers in the market. But you need to be cautious while purchasing a machine as not all manufacturers are reliable.
If you are planning to purchase an advanced offset printing press then you can easily purchase it from Sahil Graphics. It is one of the leading manufacturers in the printing machine industry and provides different printing machines including offset printing, flexo printing, Mini Offset Printing machines, etc.
A mini offset printing press is widely used by offset printers, which provide services such as printing letterheads, pamphlets, etc. Designed with the latest technologies, these machines are capable of offering high-resolution printing with clear impressions for your various commercial applications across a spectrum of industrial uses.
Clients looking forward to purchasing these printing machines can avail them from Sahil Graphics at highly affordable prices.
When you need Offset Printing?
Offset is a great printing option when you need prints of high quality and for larger run projects. You can also use it when you have any requirement of custom paper or specialty ink. The machine for offset printing requires a significant investment, but it proves to be a very affordable option in the long-run.
Benefits of Offset Printing
Offset Printing Machine provides a print of high quality and true color.
It prints medium to large quantities at a low cost.
It is fast and efficient.