What is the importance of V Bottom Paper Bag Making Machine?
July 21st, 2022 Sahil Graphics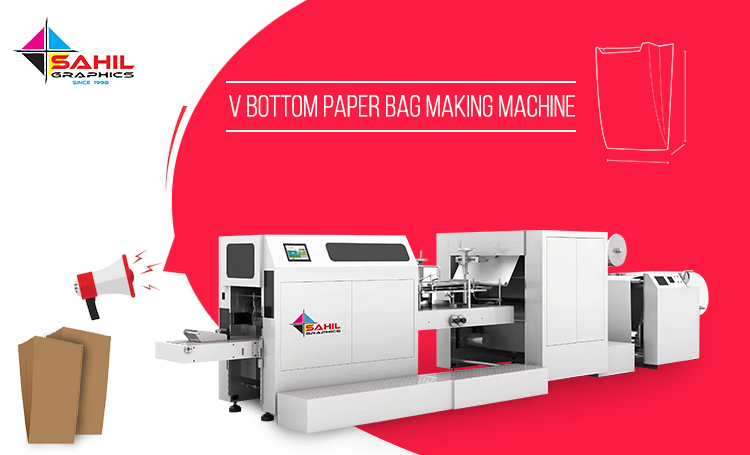 Paper bags have become an integral part of our life, with increasing awareness among the people to save the environment; it has become a responsibility of each one of us to use natural and environmentally friendly alternatives. With increasing popularity among the masses, many are considering entering into the business of manufacturing and distributing paper bags. One can find various types of machines in the market and one such high in demand and equipped with advanced features is V bottom paper bag making machine.
Before deciding to purchase the machine it is necessary to find a reliable and trusted company that manufactures and distributes high-quality machines. Sahil Graphics is known to provide the best quality machine for many years now and is highly trusted by the people who are keen to buy V- a bottom paper bag-making machine.
Some of the key- features of the machine that make it different from the others have been listed below-
This machine is highly advanced with the fully automatic feature which works fine and are have high speed as well.
The machine uses a variety of paper to manufacture paper bags, these include primary color paper rolls such as Kraft paper, striped brown paper, slick paper, food coated paper, and medical paper to mention a few.
The entire process of bag making comprises various steps starting from side folding to side gluing, bottom gluing, forming the bag, and finally delivering the finished product. All these steps are done in a single step without any delay and fault.
Since all the steps are done in a single step, it proves to be highly cost-effective and efficient.
The machine being advanced is suitable to manufacture bags of various kinds. One can easily get bags of different strengths at high speed. Thanks to the presence of Aluminum Drum V3.0, the machine is extremely stable.
Thanks to sharp knives, you get bags of perfect shapes and sizes every time.
Lifting and putting heavy rolls is easy with Pneumatic Lift.
The printing on the bags is also sharp and neat, thanks to the presence of high-quality Anilox Rollers.
Since the machine has to work very efficiently, hence high-quality motor of Havells and Crompton is used which generates 1440RPM.
Bags of various widths can be easily made as changing speed is now high.
There are various benefits of paper bags which have been listed below
Can be easily recycled
Biodegradable- is easily degraded and causes no harm to the environment.
Available in various shapes and sizes.
Have high strength
Can be used for brand promotion as well.
If you are keen to start your own paper manufacturing business, it is high time to invest in a high-quality paper bag making machine, particularly V- bottom paper bag-making machine.