Avail The Best Paper Bag Making Machine From Leading Manufacturer- Sahil Graphics
June 1st, 2020 Sahil Graphics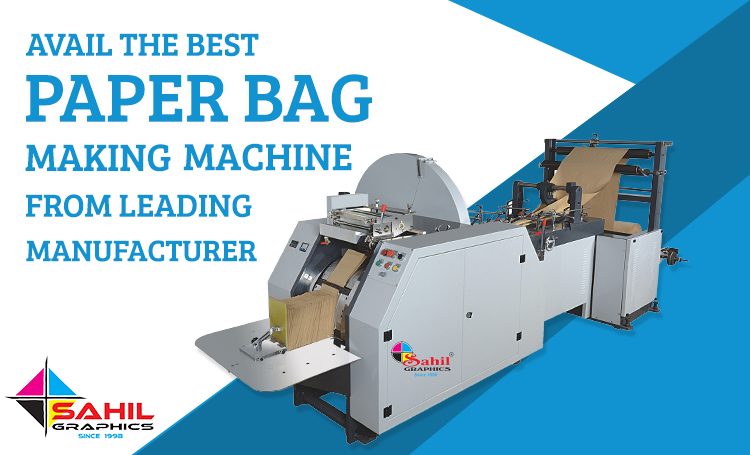 Nowadays, the demand for paper bags in the market is growing immensely as it is one of the best alternatives to plastic bags. The rise in demand for paper bags among people has led to its increased production. This has further led to the increasing demand for machines used in the production of paper bags.
In the market, you can find a number of Paper Bag Making Machine Manufacturers, but it is always better to choose the best. If you are looking to purchase machines, then you can avail them easily from Sahil Graphics. It is one among the top most manufacturers of paper bag producing machines in the country.
Paper Bag Making Machine is in high demand in the market as more and more industries are being engaged in the business of making eco-friendly bags. The machine is of great importance because of its great output, reliability, durability, lesser number of labor requirements, low maintenance cost, and better quality.
Paper bags have now become essential in our lives as they are eco-friendly, biodegradable and can be used repeatedly which is not the same in case of the plastic bags, which are immensely harmful to the environment. Thus, the machine is of great importance as it is capable of producing more paper bags in less time.
Sahil Graphics- one of the best Paper Bag Making Machine Manufacturers in India manufactures machines equipped with advanced technologies. The machines for producing paper bags are fitted with functions that help in making the finished product in large quantity without compromising on its quality.
The main functions of a paper bag making machine are material feeding, sealing, cutting and stacking. With the help of this machine, you can easily produce paper bags of different types and sizes within a few minutes.