Find The Main Differences Between Flexo Printing & Offset Printing Machine
June 15th, 2020 Sahil Graphics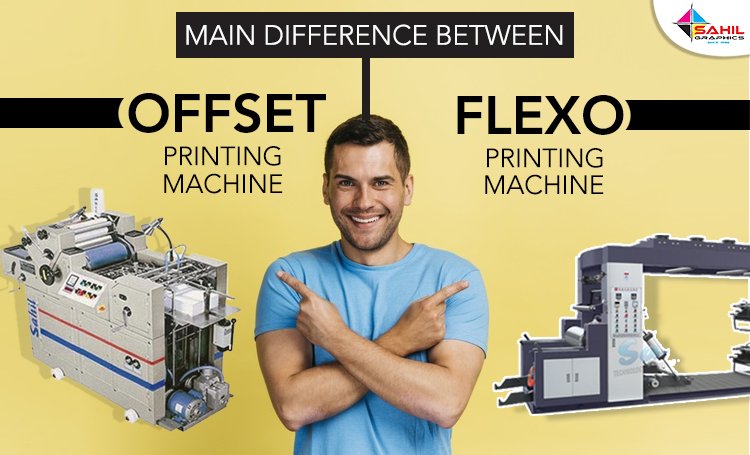 The industry of package printing comes in different shapes and sizes. For the printing process, printers and label makers use four different types of printing methods including- flexographic, digital, gravure, and offset.
In the printing industry, offset and flexographic printing are the two most widely used printing methods because they provide high-quality, consistent, and long-run jobs. Companies involved in producing flexo and offset printing use technically advanced flexo printing and offset printing machine.
If you are running a printing business and planning to expand it or you are planning to start a printing business then the latest printing press is what you need to most. There are many manufacturers of printing machines in the market.
If you are considering purchasing an offset printing press equipped with the latest technologies then you can opt for Sahil Graphics. It is one of the topmost manufacturers and providers of printing machines in India. Along with offset printing press, you can also avail of a Flexo Printing Machine from here. It has a global presence and one of the largest R&D team that works in the research development of latest printing machines.
Though both offset and flexo printing methods are popular yet there are a few differences when it comes to their uses. Here, are the key differences between the offset printing and flexo printing presses.
Inks: A flexo printing press is capable of using different types of inks. Whereas, an offset press generally works with oil-based inks along with using some water-based and UV curable inks.


Maintenance: Plates used in offset printing machines are susceptible to oxidation if not taken proper care. Thus, extra maintenance is required to ensure plate quality.


Affordability: Flexo image carriers are generally a little cheaper to create, more durable than the plates used for the offset printing. Thus they can be re-used a few times.