How Does the Lead Edge Feeder Flexographic Printing Machine Work?
April 25th, 2021 Sahil Graphics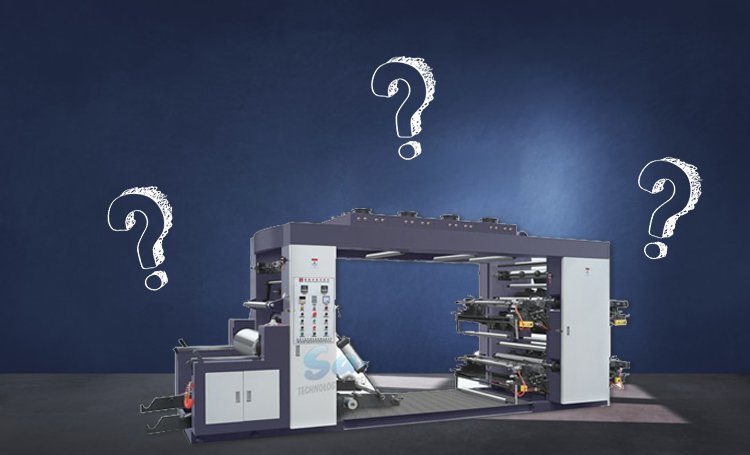 If you work in the printing industry, then you must have definitely heard is the word 'Flexography'. Now the question is: what is flexography? It is the most advanced and fastest-growing conventional printing process used especially in packaging such as flexible films and coagulated containers. The process of flexo printing machine has improved so much that it can be used extensively for color printing on a wide variety of substrates.

Flexographic printing process

his printing method uses a flexible relief plate to print on any kind of substrate which could be synthetic, laminated, or the wood-pulp-based material. Typical applications of the flexo printing process involve multi-color packaging, and in-store displays.
In this process, the starting material comes in the form of a roll which passes through a series of rotary flexible relief plates. The specialized roller used in the flexo printing machine feeds each flexible plate with ink. A single flexible plate is required for each individually printed color.
Flexo printing allows printing on different types of materials including:
Paper
Non-woven fabric
Metallic surfaces
Corrugated cardboard
Plastic films
Characteristics of lead edge flexo machines

Lead edge feeder flexographic printing machine is one of the fastest and high-speed printing machines assuring a highly-precise printing and long-life service. The top manufacturers offering flexo printing machines offer a variety of models for small and FIBC jumbo bags exemplifying superlative quality, excellent customer services, and a great engineering experience. These machines are fitted with the latest technology allowing high-precision printing and high-accuracy color registration on different materials.
These machines are inclusive of alert light and emergency stop feature along with the bag feeding attachment ensuring the safety of the operator. In the lead edge flexographic printing machine, there is an option to choose a die-cutting unit, slotting unit, or the bit units. All the units are placed on a track where they can be moved easily electrically for easy job change in the machinery.
Feeding unit
Apart from this, such machines assure highly-accuracy in feeding and printing. The feeding unit opens and locks up with the motorized printing unit. Skip feeding and continuous feeding both options are available with a feeding counter in these types of flexo printing machine. Feeding time can be set manually to meet the different requirements of operators.
Advantages of lead edge feeder flexographic machine

Offers connection combination printing
Flexible and easy configuration
Fast printing sped
Low operational cost
Flexographic printing has become the most popular printing method for companies in the most demanding sectors like cosmetics, food and beverage, consumer packaged goods, and more.