Why To Avail Flexo Printing Machine From The Top Manufacturer
April 13th, 2020 Sahil Graphics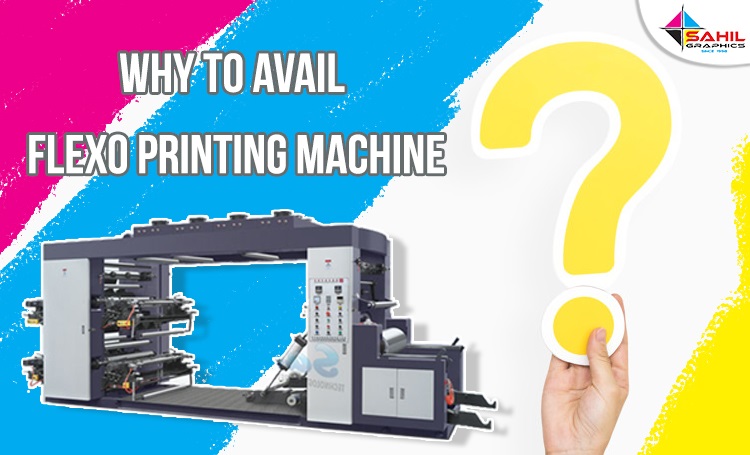 Flexography is a popular method of printing that is used for printing larger orders at rapid speed. It is used to produce prints on any flexible material varying from plastics, paper, metallic films to cellophane. In this printing method, the printing variables repeat lengths using a wide range of inks.
A printing business that wants to be on the top position of being a certified company must use a highly advanced Flexo Printing Machine in order to show its expertise in color management, process control and other aspects of flexographic printing excellence.
Flexographic printing method started as a rubber stump printing method but later a lot of development and innovations have revolutionized the flexographic printing process and industry as well. In the present times, almost 60% of the printed packaging industry comprises of flexo printing.
Modern flexographic printing machines are also integrated with lamination and die-cutting process. This process protects the product's final shape and size. The rise in the demand for flexible packaging has led to the rapid growth of the flexo industry.
Today, flexo printing is used in the packaging of various products be it grocery or office-supplies, etc. Some of the examples of products in which flexographic printing is used are:
Business forms
Packaging for food and drinking products
Flexible Packaging
Labels
Envelopes
Wallpaper
Gift wrapping paper
Newspapers
Textiles
Folding carton
Foil, etc.
If you are into the business of flexo printing then the most important thing that you need is an advanced flexo printing machine. With a technically sound machine, one will be able to print quickly and efficiently in large quantities without compromising on quality.
In the market, there are many manufacturers of flexo printing presses but one should purchase from an established manufacturer. If you are in search of a Flexo Printing Machine manufacturer in Faridabad then online research will help you to spot the best manufacturer.
The best printing machine manufacturer will provide a machine with the advancement in technology. With such a machine, a printing business is sure to offer the fastest growing printing process in the market.
A High-Speed Flexo Printing Machine is one of the advanced machines that ensure easy functionality, accurate color process, mostly for long printing runs on all Rolling material multicolor. It is also integrated with a reliable drying system coordinated with high-speed rotation.