How to do Setting of Bottom Roll on Paper Cup Machine?
November 23rd, 2021 Sahil Graphics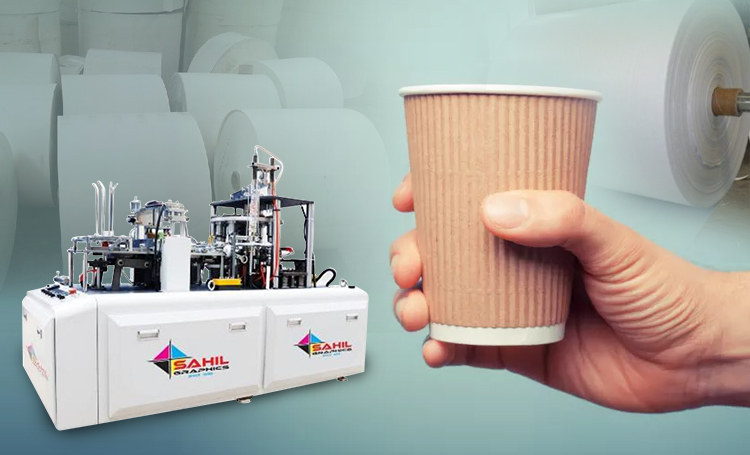 Paper cups are very popular and widely used in various industries and public places like schools, colleges, offices, and also in homes for guests. There has been a huge demand for paper cups particularly after the advent of various kinds of disease and people becoming more aware of the health and infections. Paper cups are completely environment-friendly, pollution-free and biodegradable. These can be manufactured in bulk by paper cup making machine.
Though paper cups are easily and widely available in the market, the process of manufacturing the same is not that simple. Many technicalities and procedures need to be followed to keep the paper cup machine working and in good condition. One can find many companies in the market that are known to provide high-quality paper cup-making machines among which one can select any after a thorough market research and features of the machine.
Sahil Graphics is a well-known and reputed company, known to offer technically advanced and sturdy paper cup machines which have long life and durability. There are many kinds and types of paper cup making machines available among which one can select the one as per one's requirements. These include fully automatic and semi-automatic machines. One should always opt for a machine with high performance and reliability.
Here are some tips and precautions to select the right paper cup machine:
The foremost thing for accurate cutting is that the measurement display and squareness of the back gauge should be correct. Industrial paper cutters have the option to recalibrate if there is a difference in the size displayed and that obtained.
Paper is not a stable product and is affected by heat, moisture, and pressure. Even with most of the work of paper cutting and setting the bottom roll on the paper machine is done automatically; there are certain corrections and adjustments that need to be made manually by a trained operator.
For effective and efficient cutting, it is important to make sure that the knife used for paper cutting is sharp. Blunt or dull knives can cause inaccuracy and unnecessary strain. For the longevity and productivity of the paper cutting machine, it is important to do regular knife sharpening.
The burden and heat produced by the friction are enormous and the damage it does to the machine is also huge. To avoid such a situation, regular lubrication of the machine must be done.
Smooth Setting of the Paper Roll
Paper rolls are put in the paper cup-making machine which is then cut and designed into cups of various sizes and shapes. This insertion is important and key in paper cup making machine, which should be done quite carefully.
There are many problems and issues that are faced during paper cutting which many prove to be very costly. However, if the right steps and precautions are taken, there is nothing to worry about.