Why You Should Invest In The Right Paper Bag-Making Machine
October 20th, 2022 Sahil Graphics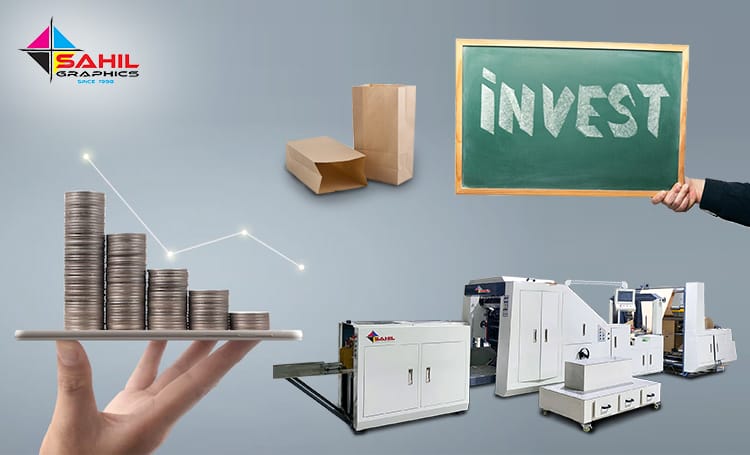 As everyone continues to appear "plastic bans", the demand for paper bags is becoming more exuberant to replace plastic bags. The corporates have started using paper bags for promotions, seminars, product packaging, and branding purposes. By choosing a top-notch paper bag making machine, it is easy to produce recycled paper bags, regular bags as well as premium bags to add a professional touch. Many entrepreneurs began to enter the paper bag business.
Classification of Paper Bag Making Machines
Due to the flexible nature of paper bag making machines, they are available in different kinds. Interestingly, each kind of machine does a specific job of producing a single kind of bag since each can only work with a specific type of raw material. However, it is important to find the best paper bag making machine manufacturer who can provide you with the right machine.
Fully automatic paper bag making machine: A fully automatic paper bag making machine is a unique brand of device. Indeed it is the modern machinethat manufacturers created to solve problems earlier linked with the other systems. For this one, almost all its operation is automated to work effectively.
Semi-automatic paper bag making machine: A semi-automatic machine control process is not completely automatic but it borrows some aspects from the manual system. This type of operation doesn't mean that it is not right. A semi-automatic paper bag making machine will promptly serve your needs and run properly. Many business owners these days prefer the semi-automatic machine as its relatively lower cost compared to the fully automatic one.
Manual Paper Bag Making Machine: Just like the other aforementioned paper bag making machines, manually operated kinds are also available. The only difference is that this machine manually operates and it needs continued human supervision to determine the operations. It doesn't mean that manual machines are difficult to operate. It just needs for the workforce. After all, it was amongst the earliest investors and thus it was built using quality as well as stable materials. As it costs less, it is more suitable for a startup company.
How to look for the ideal paper bag making machine?
Quality of the machine: Buy a machine, which is added with all the relevant features you are looking for. Read the reviews to know more about the efficiency of the machine.
Cost of the machine: To determine the right product, you need to check the cost of the machine too. For a startup, it is important to not spend a lot of money but also keep quality in mind.
Manual or Automatic: Decide what you want to go with manual or automatic before you invest. It can change the way you will manage the whole business.
Type of bags: It is important to understand which kind of machine you want to install. Be it square-shaped or v-shaped, you need to decide upon your machine beforehand.
So, these are some of the best points to keep in mind to choose the perfect paper bag making machine. Once you understand which machine to choose, you can find the best manufacturer too.