Paper Cup Machines Require Less Manpower & Time to Produces Quality Paper Cups
September 22nd, 2021 Sahil Graphics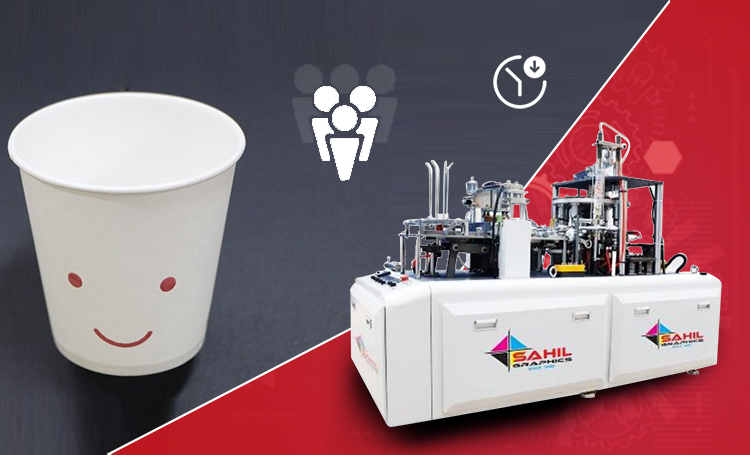 Over the years, the paper industry has undergone revolutionary changes. Today, it is one of the fastest growing industries as many countries have banned plastic. One of the most common substitutes for plastic cups is none other than the cups made of paper. More and more people are opting to use products made of paper. This is because paper is an environmentally friendly material that can be easily recycled and does not cause any economic or environmental problems. The manufacturers of paper cup making machines are also supporting the business by making the machine and the whole system easy to handle.
The increasing problems with plastic products like cups, bags etc and the growing awareness among people about their ecological damage are the main reasons that have led to the popularity and reliability of the paper business. Paper cups can be made either with the help of a paper cup machine or manually. The increasing number of users of paper cups in the market has led to the growth of the paper industry.
Paper cups nowadays are widely being used in restaurants, hotels, parties etc. You can use paper cups to drink coffee, tea etc.
Paper products are replacing most of the plastic products. Almost every business is replacing plastic cups with paper cups because it is environmentally friendly and recyclable.
Advanced and high-tech paper cup making machines help the paper cup manufacturing companies to produce more paper cups in less time. Less manpower is required to produce paper cups and other paper products with the machine and the work is done with utmost efficiency.
The production process takes less time than the manual methods and the product obtained is of much better quality.
Best quality paper cup machines
Machines for producing paper cups are energy efficient, cost effective, durable and reliable. If you are looking for paper cup machines, you can contact Sahil Graphics.
It is one of the leading manufacturers, suppliers, importers and exporters of paper cup machines in India. It provides high-speed fully automatic machines for paper cups- SG-75 and SG-90. The machine SG-75 is an automatic chain cup forming machine.
It is offered with complete technical improvement enhancing the stability of the entire machine. It produces 60 to 70 pieces of paper cups in a minute. You can also avail the machine SG-90 which is a new automatic open-cam based machine that produces high quality paper cups. It has an excellent speed of manufacturing 90 cups within a minute.