How to Start Your Paper Bag Making Machine Business in 8 Easy Steps
September 19th, 2022 Sahil Graphics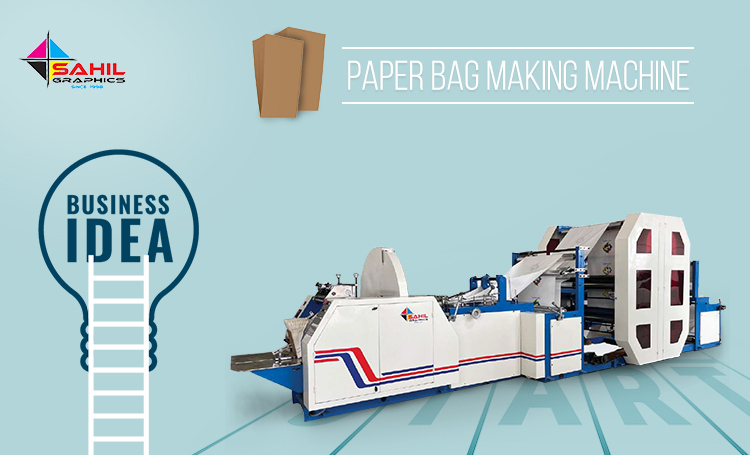 With the rising toxicity and pollution levels in the environment, it has become important to save the environment. The government and different companies across the world are finally discouraging the use of plastics which causes disastrous environmental issues. This paved way for the paper bag making business. companies are investing in paper bag making machine Paper bags these days are in great demand nowadays for their recyclable and sustainable features which are nearly every commences activity.
Understand the market: it is very essential to know in detail about the demands and the trends of the local paper bag industry before you start. It is important to do market research and gather as much information as required about the demand, competition, types of paper bags sold as well as pricing. Based on such information, you can create a plan so that you can do good in the business.
Create a business plan: it is important to create a business plan. The information received from the market research will help in creating the perfect plan. You can hire professionals to create the plan for you.
Market potential: Paper being an eco-friendly product doesn't have much competition. Plastic that was earlier used in place of paper has already lost the race. In addition to it, the establishment of shopping complexes and consumer stores has enhanced the demand for paper bags.
Business registration and licensing: This kind of business does not need any huge licenses and permissions. The first thing before initiating a business is to obtain a trade license from the local authorities. You can apply for Udyog Aadhar and GST registration.
Unit Setup: if you are willing to start a business, you will need a space for the unit operation. As per your business size, you need to acquire the space. You can start a small-scale business by acquiring a small space too. However, you need to determine the space for production operation, storage, and other work.
Invest in paper bag manufacturing machine: Fundamentally, you can run the unit on a single automatic paper bag making machine. If you invest in a good machine, with the gazetting facility, bottom and center casting, etc. You don't have to worry at all. You might need some other electrifications and hand tools.
Paper bag manufacturing process: Understand the paper bag manufacturing process. Hire a technical team who can guide you and provide you with all the details required.
Promote your paper bag making business: No business gets long-term success without the right promotion. So, it is important to promote paper bags too. However, as per your target demographic, it is important to promote the bags. Moreover, you can attract two different types of customers. First are those who look for single pieces of paper bags and then there are those who look for bulk quantity.
Starting any business is not easy. You need to consider a lot of things to make the process work for you. Following these steps will help you start your venture.