Sahil Graphics – A Leading Manufacturer Of Face Mask Making Machine
May 13th, 2020 Sahil Graphics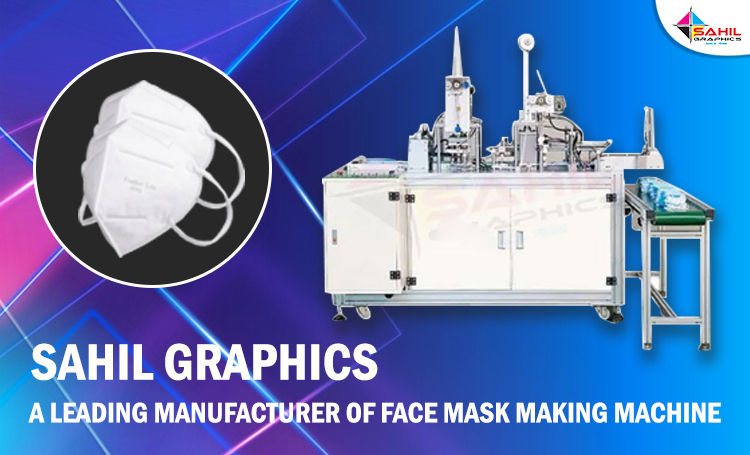 Today, when the whole world is fighting the war against COVID-19, wearing a mask has become mandatory and a new norm for everybody. To fight against the virus and defeat it, it is important to wear a face mask properly as it helps to prevent the spread of infection. In today's situation, the need for manufacturing face mask has increased immensely in the market.
If you are related to the industry of manufacturing face masks then what you need most importantly is a Face Mask Making Machine equipped with the latest technologies. In the market, you will find several manufacturers of mask making machines but be careful while choosing one for your production house.

The best machines for making face mask are perfect for the fully automated production of flat masks. Automatic Face mask making machine is also available in the market and is best for producing masks, primarily including coil material feeding system, folding synthesis, nasal beam wire loading, mask molding, mask cutting, ear belt feeding, and welding, finished material and other processes.
The automatic machine for manufacturing face mask completes the entire production process from the raw materials of the coil to the finished product of the mask. It produces masks which are comfortable to wear and are non-oppressive.
In the market, you can find different types of Best Face Mask Making Machines. Among the many machines, the model- SGFM120, is one of the best automatic mask making machines available in the market. It is a fully automatic machine that produces 3 layers of blank mask in large quantity. Its production capacity is 120 pieces per minute. The main features of the machine include:
1. Material feeding and folding composition structure: It requires manual loading of raw material. It provides fully automatic feeding and folding, multi-layer ultrasonic welding, and automatic cutting.
2. Feeding sheet-mask structure: The machine adopts mold feeding and does not use any flip mechanism. The machine ensures stable delivery with high efficiency.
3. Outer ear band welding structure: Attached with Servo -step feeding material, automatic feeding with ear bands; Ultrasonic automatic welding system, automatic thermal pressing, and automatic collection.
The Automatic Face mask making machine SGFM120 is one of the latest machines for manufacturing masks in large quantity without compromising on its quality. Purchasing this machine, you can be sure to be able to produce comfortable and good quality face masks in the mask-making industry.