Why Invest in A Square Bottom Paper Bag Making Machine?
November 22nd, 2022 Sahil Graphics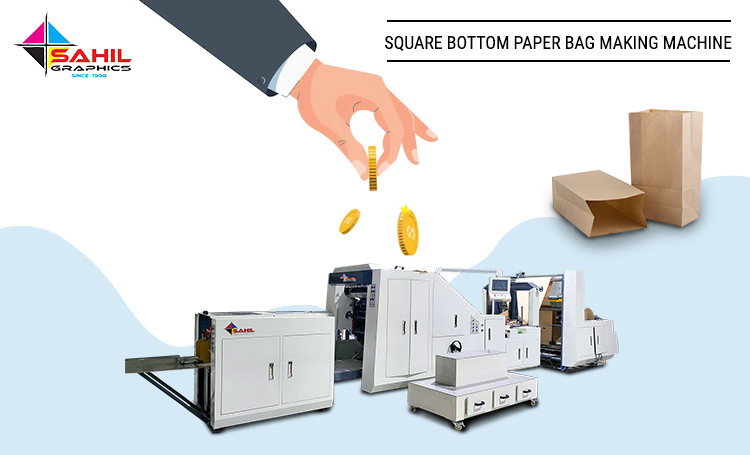 Paper bags are becoming more popular since they are completely reusable, recyclable, and biodegradable while also being environmentally beneficial and less threatening to wildlife. Paper bags may be recycled with less energy than plastic ones. By choosing a reputable Paper Bag Making Machine, you may get recycled paper bags in large and small numbers, as well as ordinary and premium paper bags, all of which offer a polished touch that customers adore and value. When the product is wrapped appropriately using high-quality paper bags, It may draw in more clients, which will aid in spreading the word about the brand to the intended market.

Square Bottom Paper Bags

What a fashion statement it makes to observe a consumer exiting a store with a nicely crafted square-bottom paper bag. An item's marketing and sales efforts are greatly influenced by its attractive packaging. The most often used sort of paper bag is one with a square bottom.

A square-bottomed paper bag, also known as a "block bottom paper bag," "box bottom paper bag," or "SOS paper bag," is a practical way to package a variety of goods at a reasonable price. It usually has a rectangular bottom, as opposed to a flat and satchel paper bag. The usage of this type of paper bag is increasingly widespread since it can bear greater weight thanks to its thicker paper construction.

What is a Square Bottom Paper Bag Making Machine?

A square-bottom paper bag machine can create shopping bags that are completely biodegradable using rolling paper as the raw material. A rapid switch of the Tube Formation Plates is included with the square bottom paper bag making machine to simplify the process. Because of its small size and ease of handling, it is in high demand throughout the sector.
The cylinders and rollers of the machine are dynamically balanced. You may achieve excellent bag quality and finish with this equipment in accordance with international standards. The equipment is of the highest calibre, guaranteeing that it will function at its peak with exceptional steadiness.

Why Invest in Paper Bag-Making Machine?

The most common type of paper bag on the market today is the square-bottomed bag, which Margaret Knight initially created in the 1870s. Key reasons for purchasing a square bottom paper bag-making machine.
Reasonably priced equipment and paper supply
To conserve space, the design is modest and compact.
Used in a range of industries and applications. The applications for the square-bottom paper bag-making machine are numerous. It may be used to make fashionable gift bags, grocery bags, food bags, paper bags with handles, and shopping bags.
Verify the correctness of each square paper bag.
Increase the output of the paper bag-making machine.
Has the ability to create a large variety of square-bottomed bags with various uses.
Astonishing return on investment for the manufacture of square-bottomed paper bags.
Exceptional Performance Stability.
Simple operations automation that lowers overall waste.
So, these are a few of the greatest justifications for selecting the square paper bag-making machine. Select the appropriate machine for your new business.