Things to Consider While Purchasing automatic Paper Cup Making Machine
January 11th, 2022 Sahil Graphics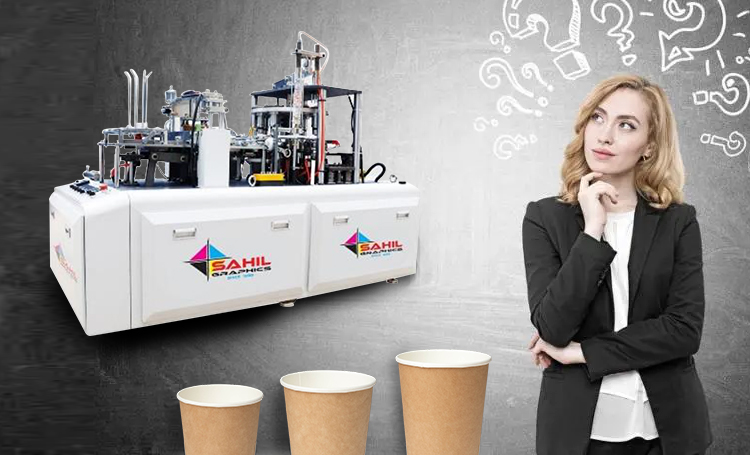 Nowadays, not only individuals are getting conscious about keeping the environment safe but the civic bodies such as corporations and municipalities who are working towards banning plastic cups and bags to save the environment.
This is one of the major reasons, why the demand for paper cups is on the rise for the last few years. All these situations indicate the demand for these products that are huge in the future, as more suppliers will be required to fulfill the demand.
This provides fast growth to the paper cup making industry and provides a good opportunity to people so that they can start a profitable business just by buying an automatic paper cup making machine.
Why invest in an automatic machine?
These automatic machines are quite helpful to enhance the business as it helps in producing more at a low cost. These are ecological machines with multi running positions that help in the production of single PE-coated paper cups that are generally used for tea, coffee, ice cream, and other beverages.
The major frames of these machines are inclined and this helps the cups to easily drop in holes, which reduces paper wasting. However, before you choose the machine, you must know the points that you should keep in mind for investing in the best from the top-notch manufacture.
Look for the ideal paper cup machine from a trusted manufacture
Installation of an automatic paper cup forming machine is one of the best ways to take your business to the next level. The machines play an important role in enhancing productivity as well as reducing cost. Therefore, if you are thinking to invest in a machine for your business, ensure that you buy the best from a trusted manufacturer. Here are some important points to keep in mind while investing in the machine to make the right decision:
It is important to make sure that the machine is made with high-quality raw material to avoid facing many losses. So, check different machine details beforehand to invest in the product that is crafted by keeping all the quality of materials in mind. 
These paper cup machines help in producing cups of different sizes and shapes so one can check out its working as per their requirement to provide your business a good boost.
Another thing, which you must look for while searching, is also the after-sale service. It is essential manufacturer offers you good after-sale service so you can get the answers to queries that arise while working.
Once you invest in a machine, you can face any type of technical fault that is required to be treated immediately. So, ensure your manufacture offers you the required technical support through after-sales service.
The quality of your machine matters a lot but along with it matters the price. Therefore, it is important to keep a check on its price to crack a good deal.
These above mentioned points can help you in choosing the suitable automatic paper cup machine from the right manufacturer.