Paper Cup Making Machine
September 3rd, 2020 Sahil Graphics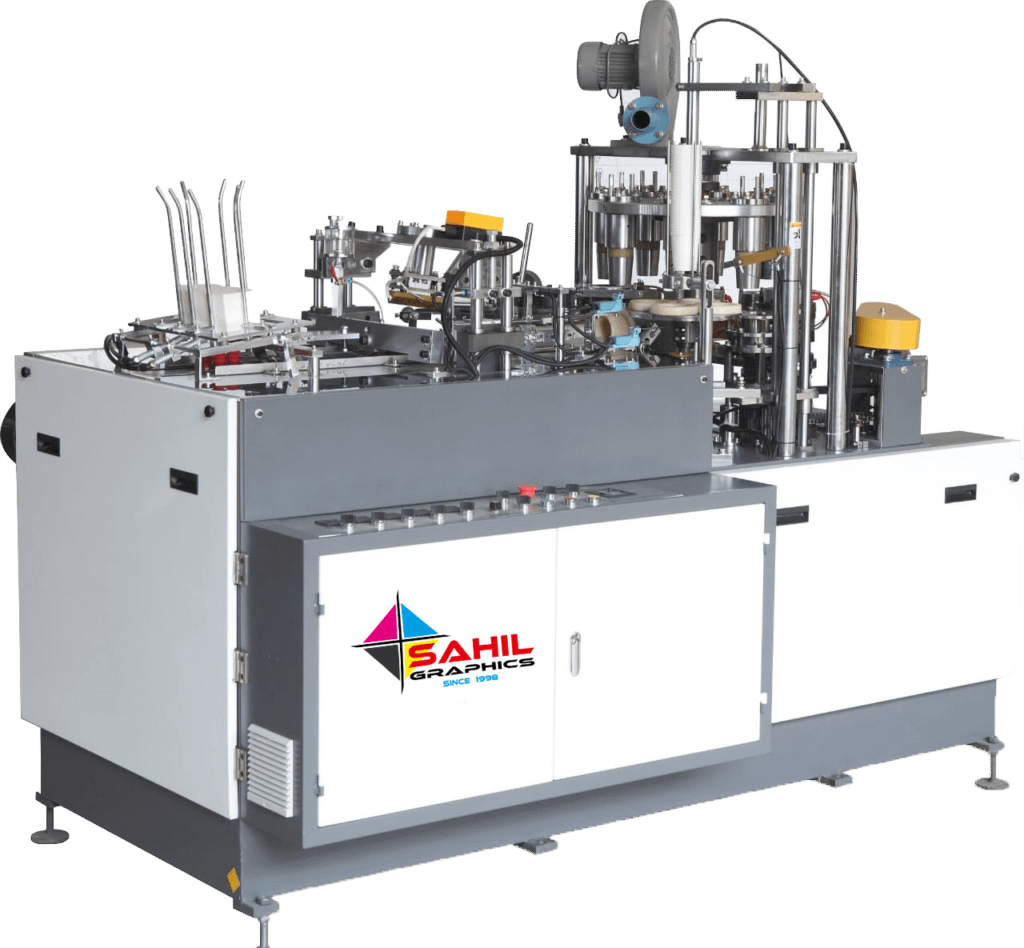 Today, the use of paper cups is gaining huge popularity among people due to its various advantages. These cups are a type of disposable cups, usually used to take drinks. Nowadays, these cups are used everywhere, in schools, office, hospitals, restaurants and even as one is travelling. The manufacturing of paper cups began in the early 1900s. The main reason behind the manufacturing of paper cups was to stop the use of plastic cups and prevent the spread of diseases caused by them. These cups are non-reusable cups and thus they prevent the spread of germs and diseases. Paper cup manufacturing companies use advanced paper cup making machine to manufacture these cups in bulk.
How paper cups are manufactured?
Starting a business in paper cup making is easy and profitable as well. One can start this business as a small or large-scale both. One of the most important things that one needs to actually start this business is a technically advanced paper cup making machine. The main raw material for producing these cups is paper; so large rolls of paper are what you need. Then the paper is pushed into a machine that cuts it into small sheets knows as flats and each flat makes one piece of the cup and its size is also determined by the size of the flat.
Then the flat sheets are passed through the cup making machine that rolls the paper into a cylindrical shape. At the same time, the machine seals the inner part of the paper by applying heat on wax making the cup. Simultaneously another paper is being fed in to the machine and is rolled into circles making the cup base. Later the cylinders and the cup bases are sealed together to make a complete cup. The machines are used to manufacture paper cups in different shapes and sizes and in large quantity in a very short time.
Paper cup making machines
If you are considering purchasing a machine for manufacturing paper cups then you can easily avail one from a reputed manufacturer. In the market, there are a number of machine manufacturers providing paper cup producing machines. However, you should opt for the manufacturer that holds several years of skill in supplying a wide range of paper cup making machine. A topmost machine manufacturer provides machines, which are manufactured and designed by highly well-informed professionals. You should look for a machine with easy functionality, reliable performance, and long life service.
Paper cup making machine (PC-85) is one of the latest and fully automatic open-cam based machine available in the market. It is known for making high quality paper cups within an excellent speed of 85 cups per every minute. The machine is manufactured with the latest technology improving its speed and stability. It is one of the best machines that you can purchase to improve the quality and increase the production and of paper cups.