How to Avoid Mistakes While Purchasing a Flexo Printing Machine
February 4th, 2020 Sahil Graphics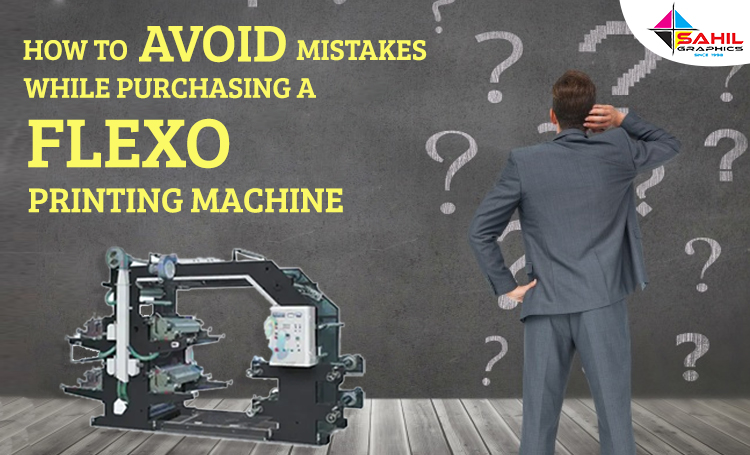 If you think that just purchasing a Flexo Printing Machine will enable you to accomplish your work, it is not the case always. However, getting to the point of making a purchase decision is only part of the process. There are several common errors, which you can commit both during and after purchase if you do not study the market before your purchase.
This may further lead to making your new machine more of a challenge to work with than it is required to be. Here, we have discussed a few commonly made mistakes, which you should avoid while purchasing a flexographic press.
1) Looking for extra features and not the right functions
Today, you can avail of flexo presses with several new technological options to choose from. Be it automation and colours to excellent drive systems and optional add-ons, you are more tempted by the features available.
But you should question yourself - do you really need them? To get the correct answer you should consider your current budget and needs, as well as the future growth of your business. You should pick a machine with the right functions that would help you complete the jobs for your customers.
If your machine doesn't have the right features then it will set you behind the competition. Here, it becomes important to match the features with your plans for growth and expansion over the coming years.
Choose a machine that will help you to maximize the potential of your production. If you are looking for such a flexo press then you can purchase one from Sahil Graphics- a leading manufacturer of flexographic machines
2) Not choosing a machine that complements your works
Many businesses make the mistake of purchasing an advanced flexo press and then modify their process in accordance with the efficiency of the press. But this shouldn't be the case. You should purchase a press that suits your current process the most. Before purchasing a Flexo printing machine in India, you should check whether its printing quality is as per your requirement.
3) Opting for a bargain press
It is obvious if you to want to save money on large investments. But, while purchasing a flexo press you should not be tempted if it is being offered at a low price because it was made in the far East, or it doesn't have many features. You should consider the long-term benefits of spending more on your press as it is an investment that will help to grow your business.