Simple Guidance For You In Paper Bag Making Machine Manufacturers
December 11th, 2019 Sahil Graphics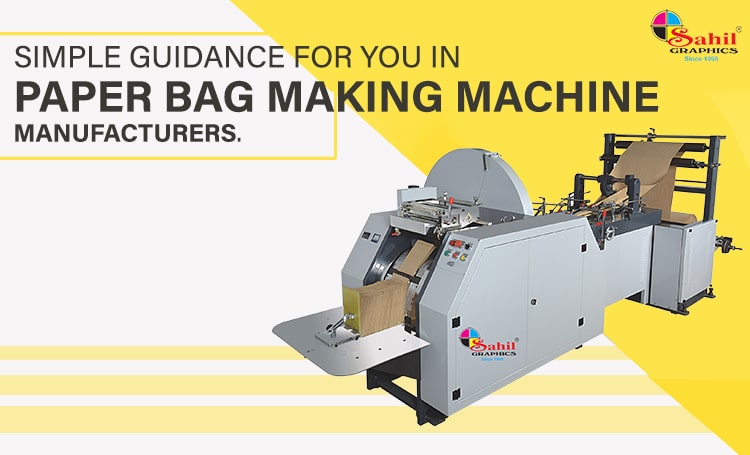 The paper industry is one of the leading and well-known industries in India. The industry is among the main contributor of revenue to the country. It is providing employment to more than 1.5 million people and is considered arising industry across the globe.
Different types of products made of paper are used in many ways including bags, cups, plates, books, envelopes and much more. Among the different paper products paper straws are extensively used and these are produced in bulk with a Paper Straw Making Machine. However, the accessibility of raw materials is one of the most essential factors that concern the paper industry.
Here are some of the benefits of using paper straws over plastic straws.
Paper straws are biodegradable which means that if they end up in the ocean, they'll start to break down within just three days whereas the plastic straws will take years to decompose.
As we know, plastic straws can take years to fully decompose, lasting for up to 200 years in a landfill. There are also possibilities that they'll wind up in the ocean and unlike plastic straws, paper straws will decompose back into the earth within 2-6 weeks.
Using plastic straws is not environment-friendly. In the last few decades, innumerable straws and stirrers were picked up during annual beach cleanup events. Using paper over the plastic will to a great extent reduce this thing.
Another important paper product is paper bags. These bags used to be plain-looking and delicate carriers in the past. People used to complain about how these bags easily got ragged when they put with heavy packages. However, with time these bags are getting better. They are now more long-lasting and what's more remarkable is that they are even more useful than before.
Advanced paper bag making the machine has made these bags available in different styles, colours, shapes, and designs depending on their use. Sahil Graphics is one of the leading Paper Bag Making Machine Manufacturers in India from where you can purchase a machine to expand your business.