Top 5 Advantages of Square Bottom Paper Bag Making Machine
June 30th, 2022 Sahil Graphics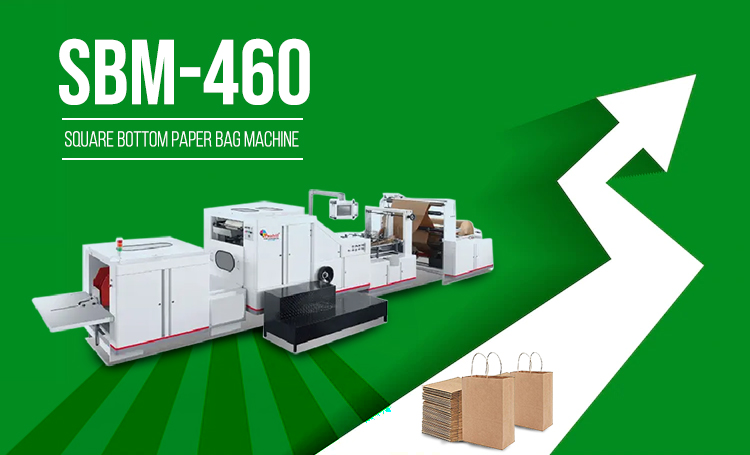 The square bottom paper bag making machine has a myriad of applications. These machines are used to produce shopping bags, grocery bags, food bags, and other paper bags. These can be customized as per the demand of the company. They are added with handles or interesting prints. This special machine produces the paper bag in one process from printed or unprinted roll paper, side gluing, roll folding cutting, bottom folding, bottom gluing forming, and bag formation in a single roll.
The machine is controlled with the help of a PC programmable servo motor and it is operated through a touch screen interface to create a variety of specifications for paper bags. It has a wide range of advantages such as high production, quick changeover, operator-friendly as well as fully automatic. Let's have a look at the different benefits:
The advantages of the square bottom bag-making machine:
Most companies undergo strict quality testing standards that make sure efficiency and quality in their square bottom bag-making machine. Let us take you to a host of benefits that it offers.
Easy Operations: You may agree that the most essential aspect of any machine is the ease of operation. If you invest in a high-quality paper bag-making machine, it should be easy-to-use and operator friendly. It helps in offering high production and needs minimal maintenance.
Full Control: The square bottom paper bag-making machine enables the user to have full control over the machine. That is why you can never go wrong with using the best paper bag-making machines. Its application in the shopping industry is quite huge as paper bags are extensively used to store a variety of items.
Compact Size: Those days are gone when machines denote to huge size. Time has changed and you can find these sizes in very compact sizes. A small footprint further allows easy installation. It needs very little space but works more efficiently. With a compact size, many numbers of machines can be fit in one room.
Automatic Lubrication: The machines come with an automation lubrication system, which augments the machine life considerably. It can stay functional for a longer period by getting lubricated as and when requisite. This feature adds durability to the machinery for effective function.
Minimal Efforts: The machines are provided with hydraulic reel lifting that assists in quick changeover and needs less labor. In addition to it, it has an automatic counting feature, which reduces the need for labor. It saves them energy and time invested to produce higher productivity.
The main highlights of the machine are:
Swiftexchange of the tube formation plates
Easy touch operation
Automatic shutdown
Automatic counting system
Side glue using the auto gluing system
Rollers and cylinders are dynamically balanced
Compact and easy to handle
Material feeding using hydraulic lift structure
Correction using the pausource
Paper tube forming devices
Conclusion
After the ban on the usage of plastic bags, paper bags are quite in demand. Many industries are looking forward to making paper bags in different sizes and designs. With the compact and easy-to-operate square bottom paper bag making machine, it becomes much easier to supply as per the demand of the industry.